Weekend Project: Apex Clip on handle bars, PCV, Lars Air box Mod, K&N Filter
Hello All,
Fairly new member here. Bought my first bike (2013 FZ8) early this season and I'm loving every second of it. One thing I did not like was the handle bars. I'm a bit taller so I sit upright on the bike when seated comfortably and it just wasn't optimal when highway cruising at 80+ MPH.
I placed an order for APEX handle bars, High flow K&N filter, and a PCV. and I installed them all this weekend. The bike is breathing MUCH better now, almost too well as it is idling a little harder than normal and I'm sure its running rich. I will be getting a tune soon.
I LOVE the handle bars. I am so comfortable now and it seems to respond better when making turns. The bike is now perfect for me. Overall a pretty simple install.
attached are a few photos. ill get more of the handle bars. I got too excited to try them out I hopped right on the bike and took off without taking any pictures. The 1 photo I have attached does not yet have the electronics secured or lined up where I needed them, so you can ignore those. I also need to trim the ends off a bit.
also, I'm not very knowledgeable with the PCV, from what I understand it should just be running a stock tune, correct? Does anyone have a MAP I could run for the mods I have (also have a Coffman slip on)? Is it terrible if I ride the bike the way it is now until my tune?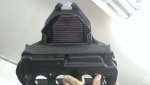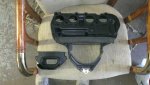 Last edited: