Posting this as a reference to confirm that a 2004 R1 front end is a direct swap for our FZ8/Fazer8's.
I picked up a 2011 Fazer8 from a dealer who specializes in theft recovery/insurance write-offs. I had to repair some minor cosmetic damage, buy new mirrors and a windscreen, and the bike was good as new. I also happened to pick up (at the same time) a ratty looking R6 that turned out to have a 2004 R1 front end grafted on to it.
The R1 has fully adjustable forks, slightly bigger rotors (320 vs 310, I think), and radial brakes, so even if they are 7 years older than the original Fazer forks, they're still a significant technological upgrade, in my view.
The swap was extremely easy, which is why I thought I'd post about it.
I kept the original triple trees, which have the identical side-to-side spacing as the R1, and just slipped the R1 fork tubes into the clamps. I kept the R1 wheel, which is identical to the Fazer/FZ8 as far as I can tell, along with the brakes. Geometry is unchanged from the original. The fender is actually the exact same part, so I used the Fazer one as it was in better shape.
Note: the R1 triple clamp width is the same as the FZ8, but the offset is different, so using the R1 triple might work, but rake and trail would be affected.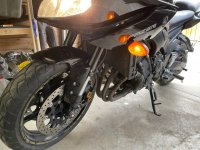 Last edited: