Hey Folks,
Just wanna say hi: I'm from Hungary and I have been the owner of a Fazer FZ8S (year 2012) since last summer.
The bike came from Italy with very low mileage and with the famous alternator (stator/rotor) problem - "thanks" to this I got it in a reasonable price. It is in perfect condition - just installed GIVI crashbars on it and I'm gonna shortly replace its beautiful stock muffler with a MIVV Storm GP slip-on one.
My previous bikes were a Yamaha XJ600n (year 2000) and a Yamaha Majesty 400 YP400 (year 2003). It seems I'm pretty loyal. ;-)
The next step is discovering the Alps in Austria&North Italy.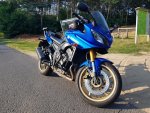 Last edited: