Nicely equipped with stuff I bought and learned on this site! Here is a copy / paste of the
Craigslist ad
..
For Sale:
2011 Yamaha FZ-8 with a little over 12,600 miles (still going up as I ride year round). This has been my commuter & weekend warrior for almost five years (2nd owner) and lives in my garage when I'm not riding. It has never been wrecked, laid down, or even left in the weather.
The 779 cc in-line four runs flawlessly and the paint and plastics looks superb. It is the best bike I've owned. Unique blend of mid-range power, sport bike size, and naked style. This bike would be great for a mature new rider and has plenty of life to keep more experienced riders, like me, entertained. The only reason I'm selling is I
bought an adventure bike to take longer trips with.
This motorcycle was my step up from the Suzuki SV650. I also tested the Ducati Monster (too small), Kawasaki Z1000 (too much), and Triumph Triple (bad ergos) before I settled on this beauty. If you are considering a FZ1, FZ6, FZ-07, FZ-09, or FZ-10 do yourself a favor and check this one out. You won't find many FZ8s and even fewer with these add-ons:
For Looks & Style
• Ermax Radiator Cover Side Fairing
• Ermax Seat Cowl
• Ermax Lower Cowling Chin Spoiler
• FZ-08 Fly Screen
• Blacked Out Headlight Shroud
• Machined brake and clutch levers
For Comfort & Convenience
• Shad Seat
• AC Adapter
• Lowered pegs
• Raised Handlebars
• Technic Tank Pads
• Centerstand
For Performance
• Power Commander
• GI Indicator Pro
• Akrpovic Slip On
• New Tires
• K&N Air Filter
• FZ1 Rear Shock
For Safety
• Frame Sliders
• Axle Sliders
• Helmet Lock (Keyed to Ignition)
• Integrated modulating taillight
• Current VA Inspection
• Bar-end mirrors
• Ultra-bright Headlight lamp
I have almost all of the original stock parts (seat, mirrors, shock) and they convey with the bike. All of the modifications can be easily switched to stock.
** $4800 or reasonable offer. Cash only. I have a clean title in hand. Email or text with questions or a time to meet, but if you can see this ad, the bike is still available. I can ride to you within reason.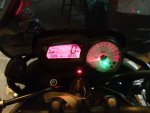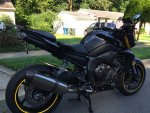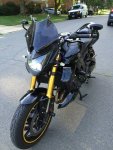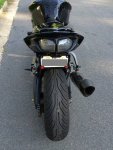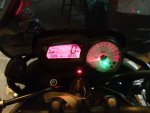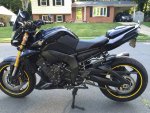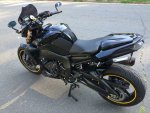 Last edited: